Many of you were already aware that S-Purple (AKA Shwig AKA Vladimir Sandler), the art director for this project, has been conspicuously absent lately. I recently found out why.
It's possible the single worst decision I've made throughout this entire project was ever choosing to trust him in the first place. When S first joined this project, as the very first person I ever put on the team before we even started our Patreon, I gave him an incredibly generous contract. In it, he was entitled to half the remaining revenue after all other business expenses (including labor, etc) had been paid. I also allowed him to retain the rights to his artwork, under the assumption that if either of us ever chose to leave the project that they would be able to then sell their portion of the product to the other, or negotiate for royalties. I didn't know when I made that contract that this project would ever be anywhere near as successful as it became.
Consistently throughout the project I have regretted that decision. I essentially made him my partner, and as a result nearly every decision I've made has been filtered through him; he has consistently made stubbornly unreasonable decisions borne out by a poor understanding of the actual management of a project, rejected my proposals to hire a project manager (something I promised to patrons and we've sorely needed throughout the entire project) or additional animators, made in equal parts incredibly greedy and capricious decisions, continually forced revisions of existing assets that prolonged the project by a massive amount (in some cases making us throw out months and months worth of work), and went over my head multiple times to violate my explicit directions. He has been, consistently throughout this project, a massive source of inflating the scope of the game in completely unreasonable ways, meanwhile being completely oblivious to the amount of work he has been forcing on others. And he's overall just a spiteful, unpleasant person who can't control his own anger in a professional setting or accept not getting anything the way he wants. I'm frankly ashamed that (1) I let him have his way over and over again throughout this entire project, and (2) that I've been going out of my way to cover for him this entire damn time.
Fast forward to last month:
S-Purple became suddenly absent from streams and meetings. When I personally asked him many times what was wrong, whether he was upset with me/the way the project was going or had some sort of life problems going on, he consistently refused to answer or made non-committal remarks. I figured that he just needed some time for himself and since he appeared to be ahead on his work, and because I myself had been significantly less productive during the prior couple of months due to personal issues, I decided to let him be assuming that it would just be a temporary lull he would spring back from.
On July 4th Vanilly gave me her two weeks notice, and explained to me that in addition to issues she had with my disorganized management of the project, there had been little to no direction in the art department and she had found herself in charge of essentially all the duties of the art director, in addition to PR and having to fix, redraw, color, and cut up animations before even being able to get to the task of actually animating, and as a result she was carrying a huge amount of the burden of the team while S had been reducing his own responsibilities.
Then, this Monday the existence of a Patreon page was brought to my attention that advertised a new project bearing huge similarities to Breeding Season as well as very obviously having art that had been drawn by S-Purple and Subtank.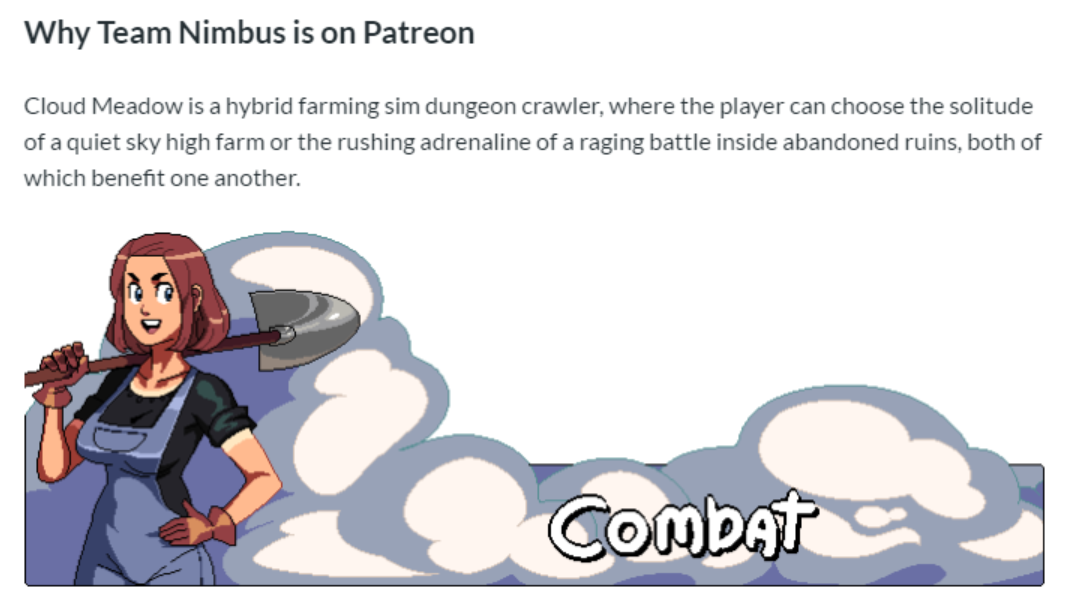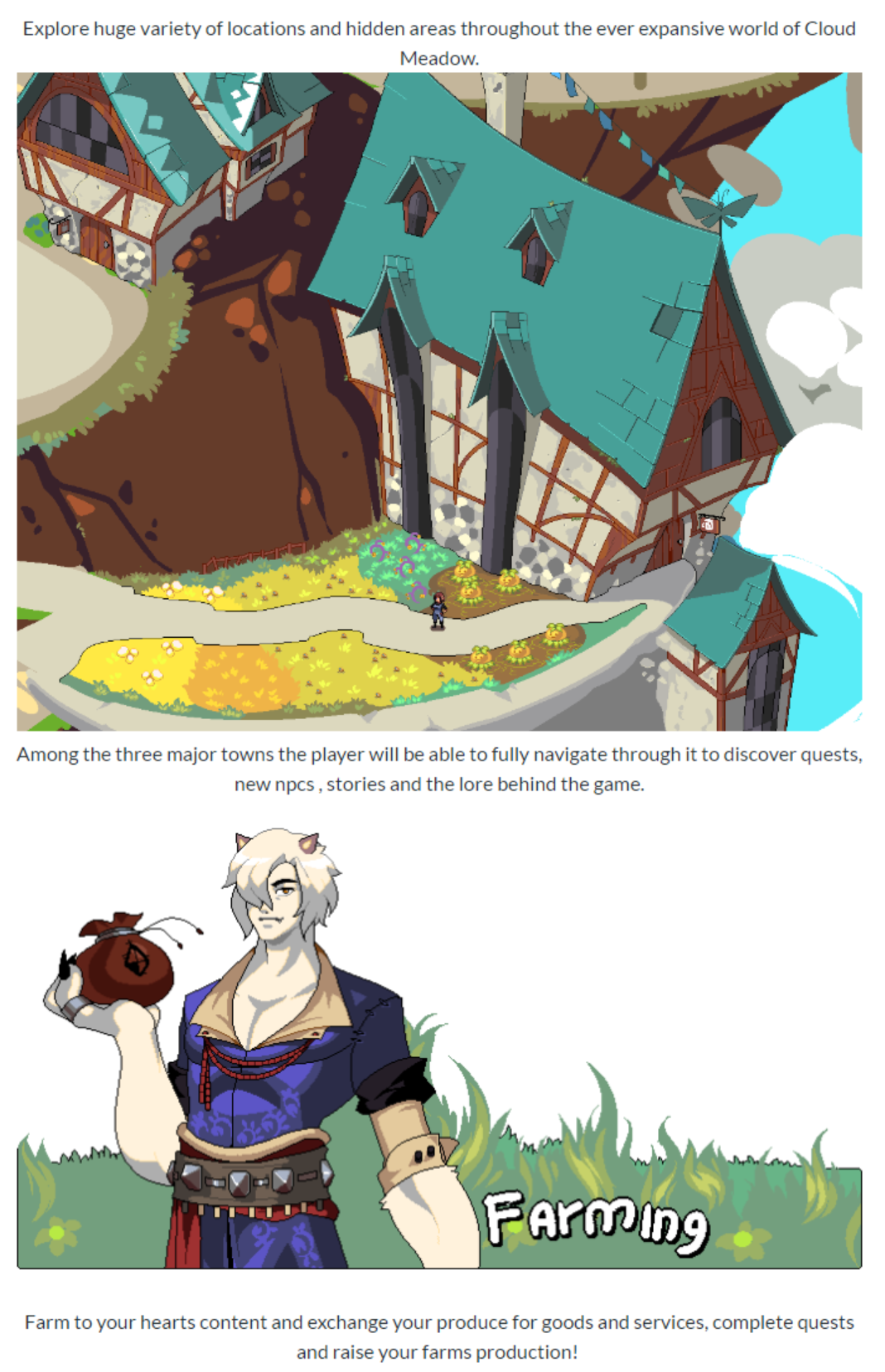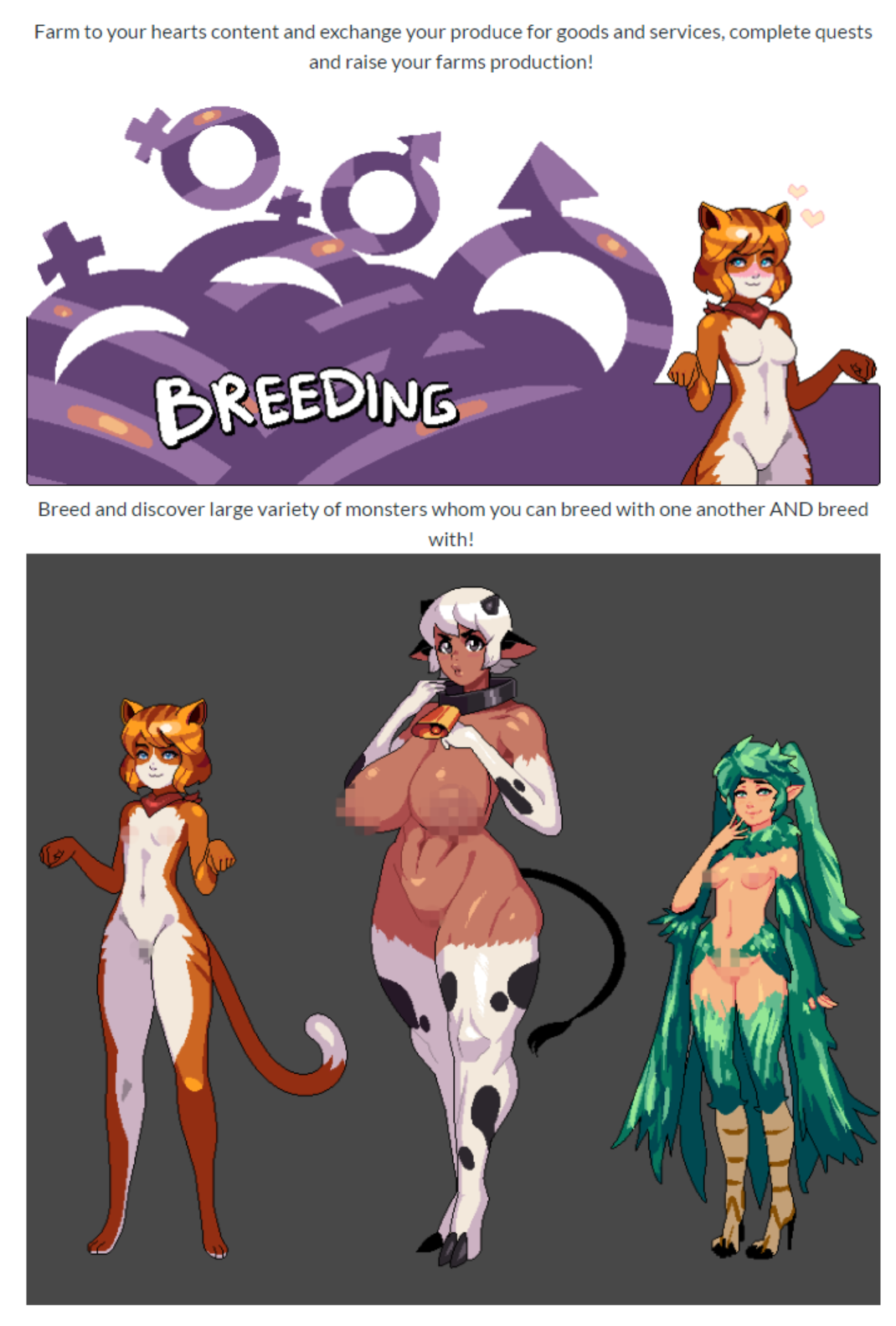 I was absolutely furious, and questioned the team about it over Skype. Only S and Subtank knew about the project at all: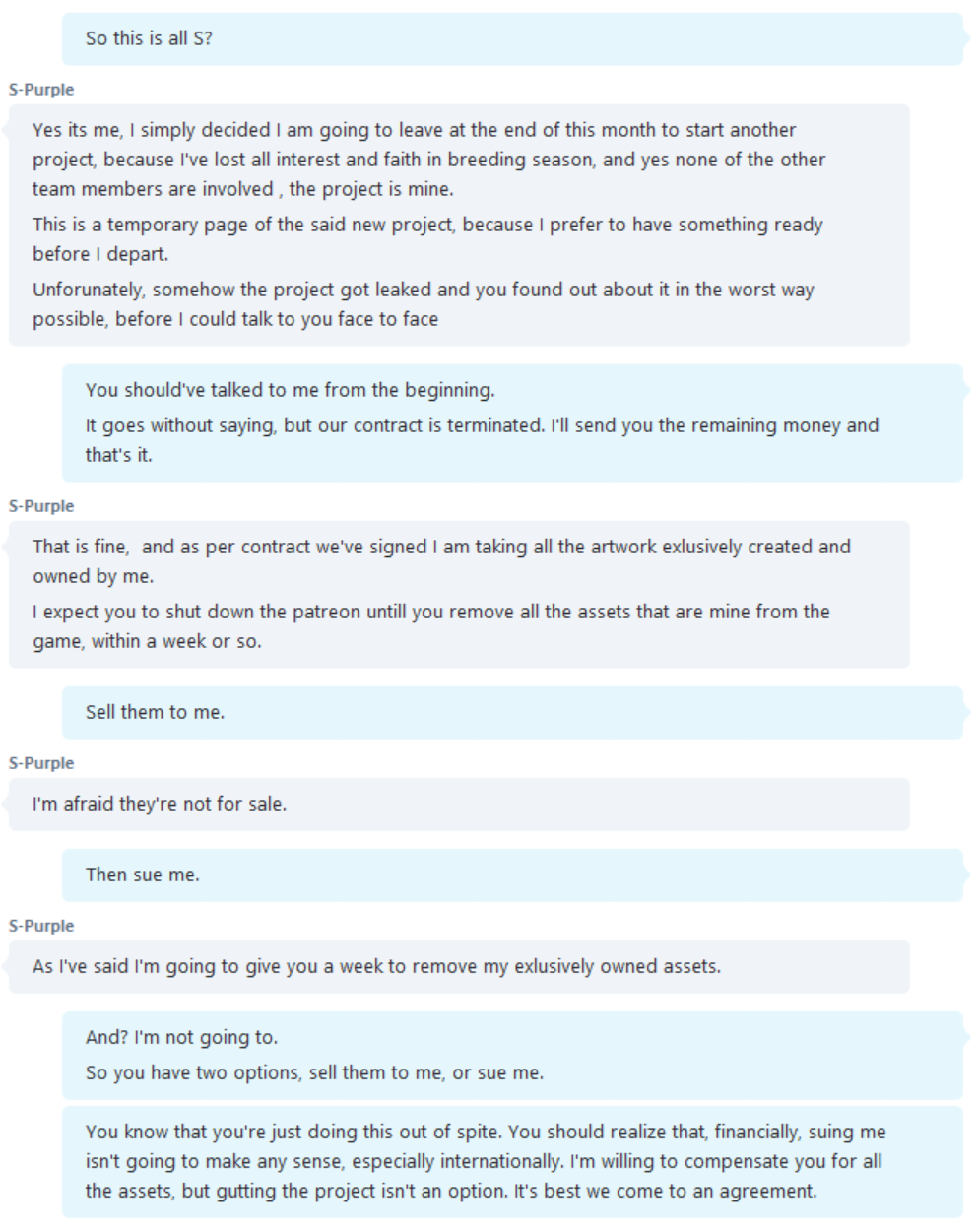 S had gone entirely behind our backs to spend an entire month's worth of work (for which he collected over $9,000 of patron money, by the way) working on a new project that he planned to abandon Breeding Season entirely for. Not even once had he brought up to me the notion of him leaving the project or faced me directly with his desire for different leadership. Instead he took the most cowardly possible option, to the point of even fooling Subtank into believing the work he was doing was for Breeding Season's benefit, and straight-up swindled us.
But what he did here goes far deeper than that. Because the wording of his contract let him do it, he also walked away with half the entire studio's savings, and then purely out of malice directed us to strip his assets from the game under threat of legal action. This leaves Breeding Season half stripped of assets. Effectively, this would scrap the entire project as it currently stands, forcing us to start over completely from square one. There is no way the project could actually survive the process, the game is just dead, that's the end.
Not only this, but he has been resolute in rejecting my offer to buy the assets from him, meaning he's not even just trying to extort the project even further than he already has, but he actively wants to fuck over the entire thing.
There is absolutely no viable reason for him to do this except to be an emotionally-stunted man-child destroying someone else's sandcastle. He can't even reasonably repurpose any of these assets for use in another project because anything that is either based on my design or was touched by any of the other artists or animators also jointly belongs to me. And there is no way in fucking hell I am letting him get away with what he did on any level.
He received over $190,000 worth of patron money over the course of this project and he thinks he can get away with directly destroying over three years of work from an entire team of people entirely because he has a stick up his ass. He has not only completely violated my trust and the trust of our team on every level, but the trust of every single patron who ever paid us anything. It's not just unethical, it's completely fucking absurd.


I have absolutely no clue how he can expect anyone to give him a single fucking cent ever again after what he just pulled here. He has absolutely no grasp of the actual significance of his actions, or the fact that he's going to end up facing real consequences for them. As though anyone would give him money after what he just did to this project, and as though I wouldn't make everything he did completely public.
I also cannot possibly imagine anyone seriously wanting to work with him after finding out how he treats his coworkers and the absurd lengths he will go to in order to fuck people over who have put their trust in him. There is no doubt in my mind that every project he will ever be on is doomed to total failure.
But that's it, this is the end. None of the other members want to continue on the project after this. S remains resolute in his unwillingness to sell me the assets and I actually do believe he's stupid enough to pursue legal action out of spite. For all the fucking resolve in the world I can't do a single fucking thing; Breeding Season is over, we're never even making it out of alpha and every promise we ever fucking made is invalidated by the fact I put too much trust in someone else to do the right thing. Hell, not even the right thing; I just trusted him to do the not fucking insane thing.
I think it is extremely important that all the patrons who donated generously in hopes of seeing this project reach completion tell S-Purple directly exactly how they feel about his decisions. I think that they should also make sure that other people are publicly informed of his actions and their repercussions, and that everyone know very clearly exactly how trustworthy of a person S-Purple AKA Shwig AKA Vladimir Sandler really is.
Shwig's e-mail address: Vietnamishguy@gmail.com
Finally, if it were in my power, given that at every point in this project it has been wholly and totally supported by you guys: the fans and patrons, every last asset of the game would belong to you, and given this project collapsed like it did I would release every single development file to the public. Legally I can't do that, though.
Wouldn't it be funny, though, if just somehow some particularly dedicated fan were to guess the password to my Dropbox account (I'm the worst with coming up with secure passwords, I always put something obvious like the name of my favorite fighting game series or something) and were to get ahold of the folder containing every file involved in the game's creation? Then wouldn't it be funny if they went around posting this to various places, like say 8chan and the LoK forums, etc?
That would be illegal, since those assets belong to S-Purple, and therefore I would never condone someone actually doing that. But wouldn't it be funny?